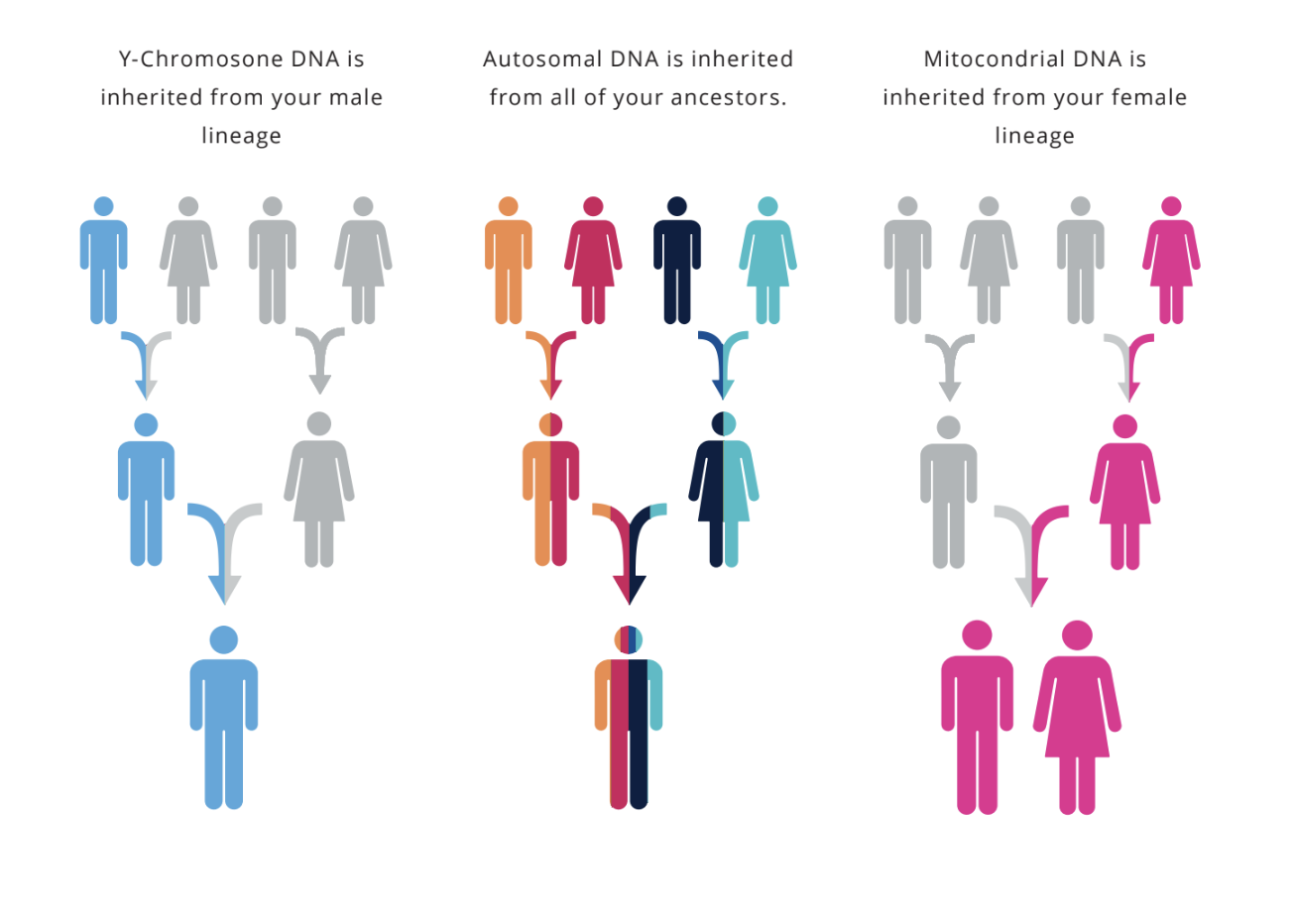 The different parts of your results have come from analysing different types of DNA. As such your maternal and paternal results must be interpreted differently from your family ancestry results.
All Fatherline results are generated from the Y-chromosome. As only genetic males possess this chromosome, we are not able to report the fatherline results for genetic female testers because they don't carry the chromosome from which we can get the data.
This means that our Living DNA test offers a two-fold result for genetic females: autosomal and mitochondrial results.
Your Haplogroup and subclade
The letters and numbers of your haplogroup and subclade are the names of the signatures. Instead of identifying them by their list of markers, the scientific community has named them according to the letters of the alphabet. On that same line of thought, your personal signature ("set of markers") is called your subclade and this personal signature falls within the grouping of signatures that is your haplogroup.
Your haplogroup is your branch on the human mother/fatherline tree and your subclade is the part most unique to you, similar to a leaf at the end of a tree branch. Many of us will all share the same branch but only a few of us will share the exact same leaf.
You will share an ancient ancestor (sometimes from 10s of thousands of years ago) with everyone who shares your haplogroup. The detail of your results will depend on which of the markers that we test for end up positive for your DNA sample and sometimes we are unable to call a subclade for you. Our markers have been chosen to provide better representation in a wider range of global populations.
The Coverage Map
The coverage map allows you to explore the frequency that your haplogroup is found in different parts of the world. Haplogroups can be associated with geographic regions and can be used in academic studies to trace the ancient migrations of early humans.
The percentages in these results show you where in the world your haplogroup is most prevalent; it does not show how much your own DNA identifies with certain worldwide populations.
So if your results say something like "England 10%, Spain 4%, Armenia 3%", this means that 10% of the people that have been tested in England, 4% of those tested in Spain, and 3 % in Armenia happen to share the same haplogroup with you.
If a specific country is not listed, it is because our content curators could not reliably confirm that a percentage of the population of that county have the same haplogroup as you.
Our haplogroup descriptions are updated periodically, as more published academic research becomes available.
The Migration Map
The migration map can be used to understand the migration route your direct mother/fatherline ancestors took from Africa to recent times. This is a theoretical, suggested migration route for your haplogroup. This is just one of many possible migration routes your haplogroup may have taken over hundreds and thousands of years. It may or may not reach your present location.
Unfortunately, we do not offer a personalised analysis of your maternal or paternal results as they relate to your family tree or your personal subclade.