This article will focus on the following topics:
How to view your recent ancestry results:
To view your recent ancestry results, click on 'ancestry' on the left-hand side of your portal. Then select "load your ancestry results."
Your recent ancestry results will then load;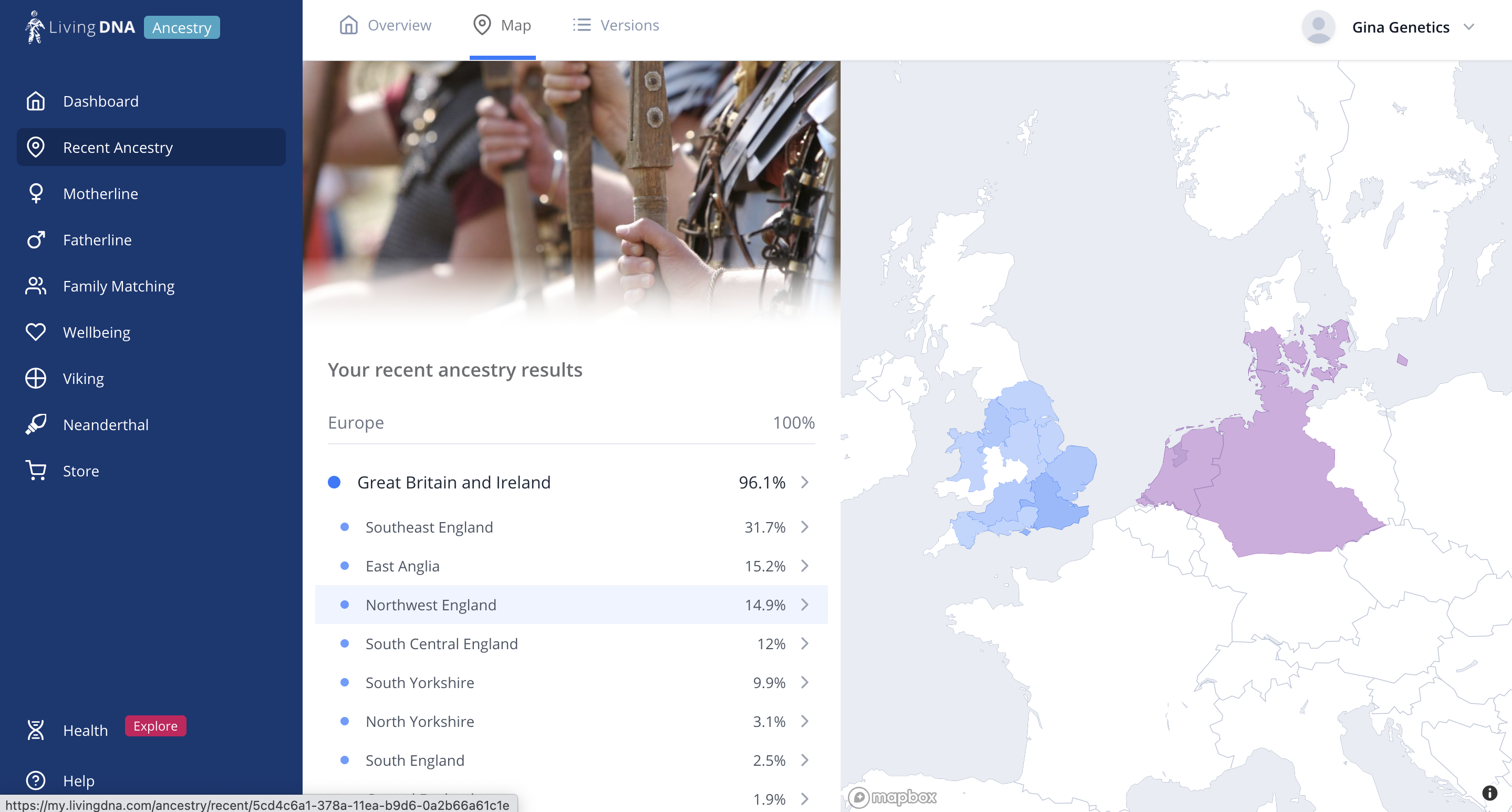 You can click on each region or sub-region for further information about that specific region.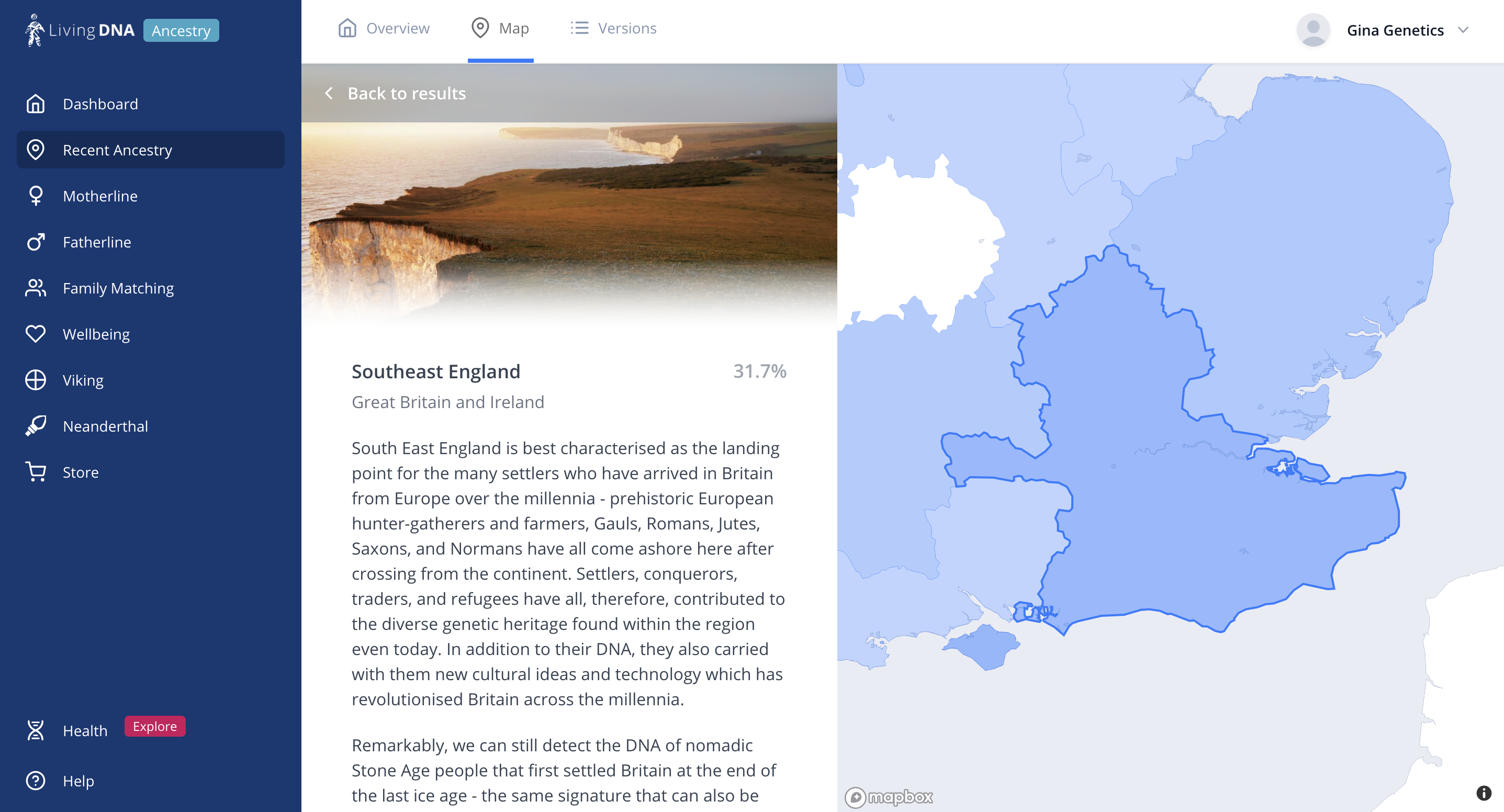 How to view your Motherline and Fatherline results:
Your Motherline and Fatherline are found together in the menu.
Motherline
When you first open your Motherline results you will be shown the Overview. This will explain in more detail what your Motherline results mean, and direct you to more information about your own Motherline result.
The History section of your Motherline results will explain more about the history of your Motherline. The populations it is commonly found in, and what is understood about the migration routes it has taken. You will also discover both your haplogroup and your haplotype.
The Motherline Distribution Map used to be referred to as the Coverage map, but we think that 'distribution' more accurately conveys what the map shows.
This map will show you where you will find other people who share your haplogroup today. It's important to note that it does not give you your mother's ancestry percentages.
Your Motherline Migration Map will show you a proposed route for your ancient ancestors leaving Africa. As ancient homo sapiens migrated across the world, new haplogroups evolved from those that came before them. You can see the haplogroups that led to your's, and click on each one to learn more about it.
Fatherline
If you carry a Y chromosome, typically meaning you're genetically male, you will see similar information for your Y DNA haplogroup (Fatherline) as you do for your Motherline, laid out in the same way.
How to view your wellbeing results:
From your Living DNA Dashboard, select 'wellbeing' on the left-hand side of your screen.
You will then be able to view your wellbeing results if you have purchased the Living DNA wellbeing kit or the wellbeing upgrade. You can choose to focus on a particular trait, or to look at all traits.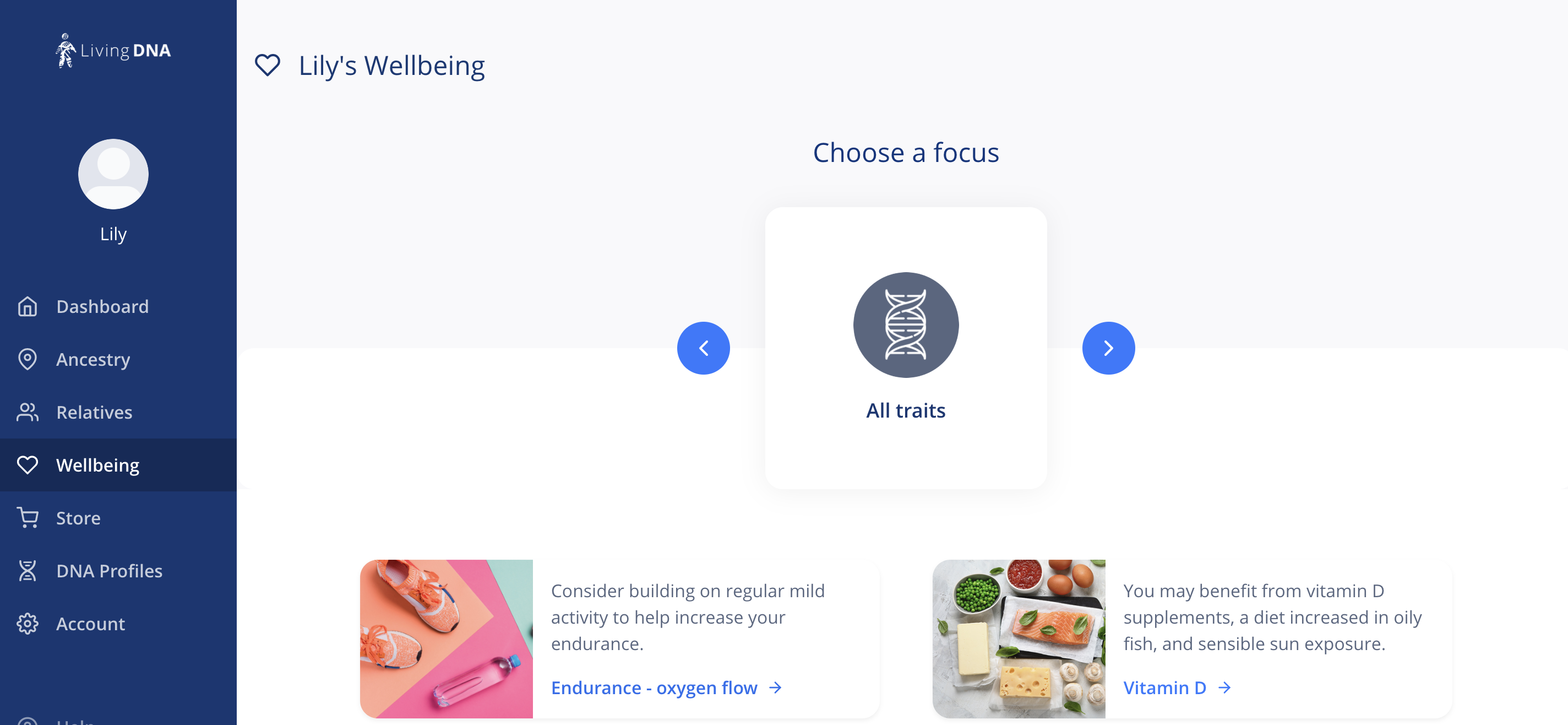 For more information about each trait, click on the trait name.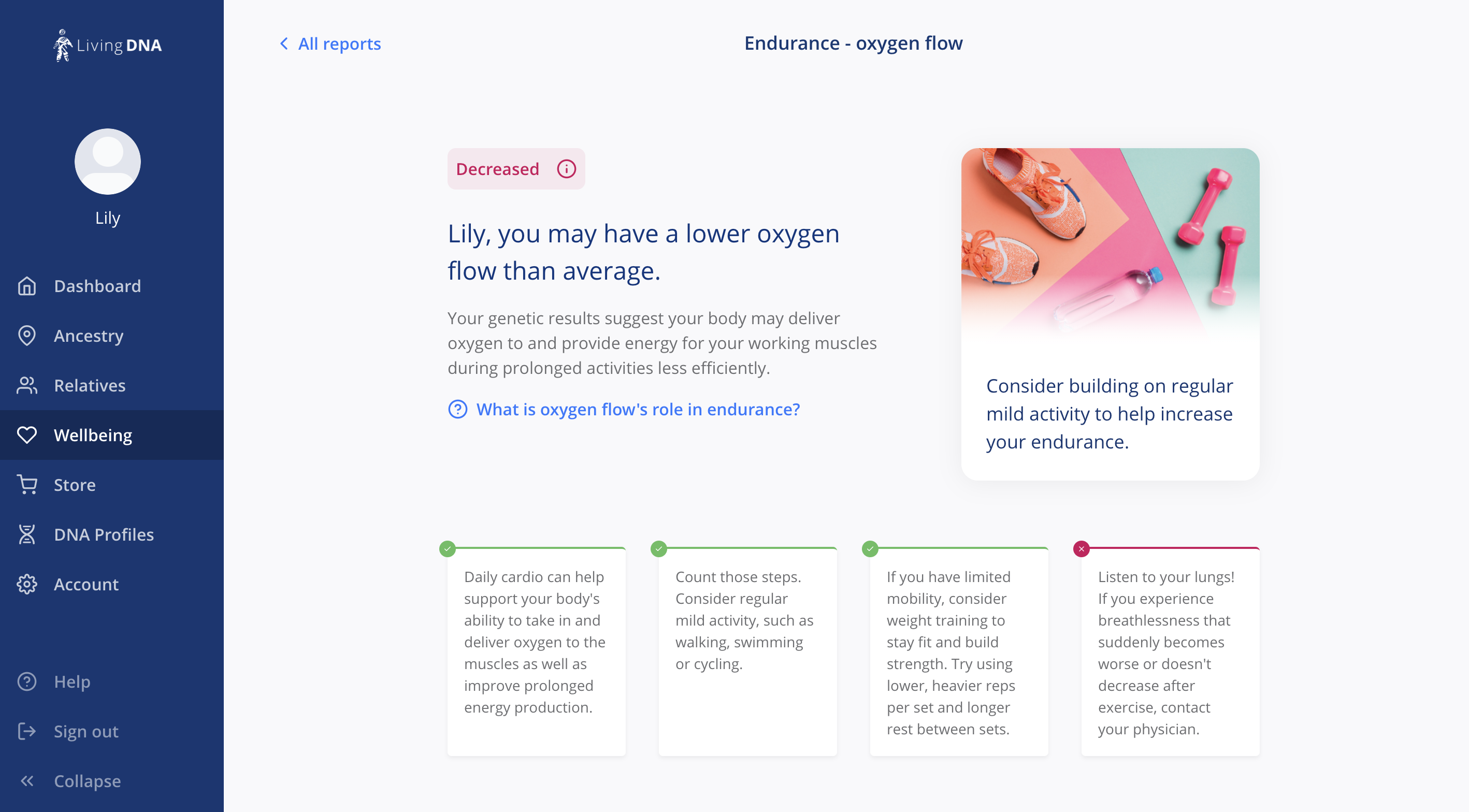 If some of your wellbeing traits are not available to see or inconclusive, this is because your original DNA provider did not test for the SNP markers required for that particular trait.
Navigating family networks:
To receive matches you need to opt into Family Networks, for a guide on how to do this, please click here. Once you have opted in, it will take up to 3 weeks for you to see your matches.
To view your matches, click on 'relatives' on the left hand side of your dashboard. Your matches will then appear. You have the option to message your match if you would like too. You can also click on the match profile to see any shared matches that you have.
How to purchase upgrades and merchandise.
The 'store' section of your portal allows you to purchase upgrades and merchandise such as the personalised ancestry book.
Click 'store' on the left-hand side of your dashboard. The upgrades that are available to you will then appear.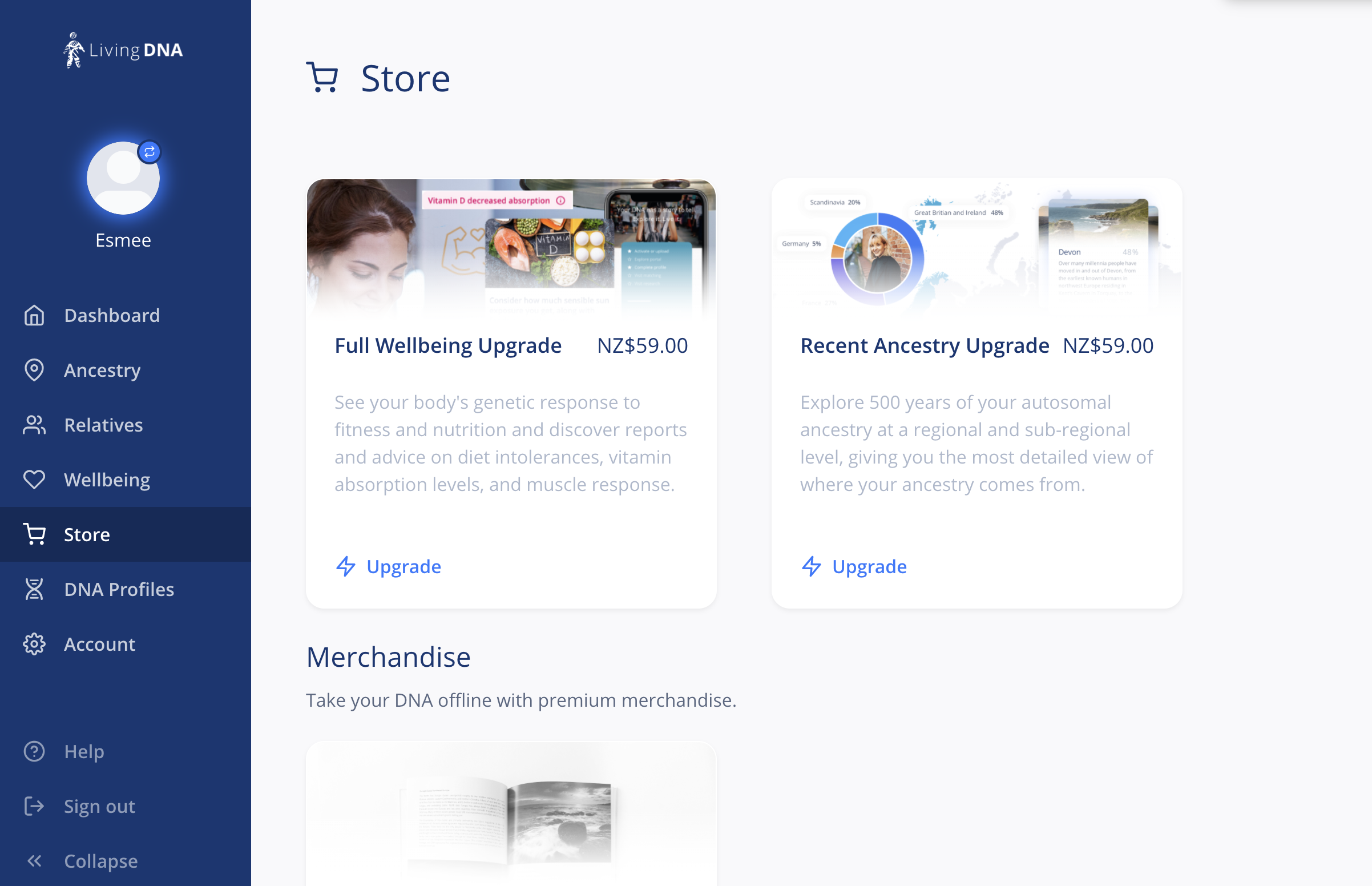 To upgrade, simply click on the upgrade you wish to purchase and follow the steps.
*Some screenshots have been taken from a previous iteration of the portal, and may not show an up-to-date menu on the left of the screen. Each section is still correct and relevant to its own area of the portal, but the menu on the left may appear to be slightly different to the one you can view.