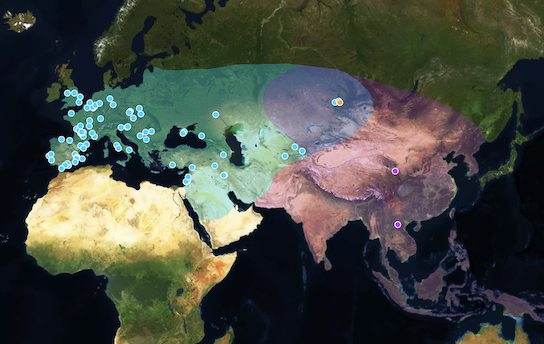 Essentially, "archaic humans" refers to extinct human species.
Although today there is only one human species, way back at the beginning of our evolution there were others.
We share a single common ancestor - a species from whom we all evolved - but all branched off from this ancestor in different directions.
When a species branches in this way, they may still be able to interbreed, with their hybrid offspring showing traits from both parents.
Living DNA's Archaic Human upgrade looks at 2 archaic human species which are now extinct, but which our own ancestors interbred with to create hybrids. We can still see evidence of these hybrids in our DNA today.
Neanderthals
A very famous archaic human species, which we are still learning more about. Once thought to be brutish and regressive cavemen, more recent studies have indicated they in fact may have been culturally advanced enough to create art in the form of ornaments, paintings, and engravings, and may even have had some form of language.
Read more here.
Denisovans
A more recent discovery, with fewer remains available to study, we don't know much about the Denisovans. Although we are yet to find a whole skull, from fragments that have been discovered we can extrapolate that they are likely to have had larger noses and more prominent jaws than Neanderthals. There has been one finger bone found which, upon genetic analysis, was found to be a first generation hybrid between Neanderthals and Denisovans - meaning one parent from each species.
Read more here.