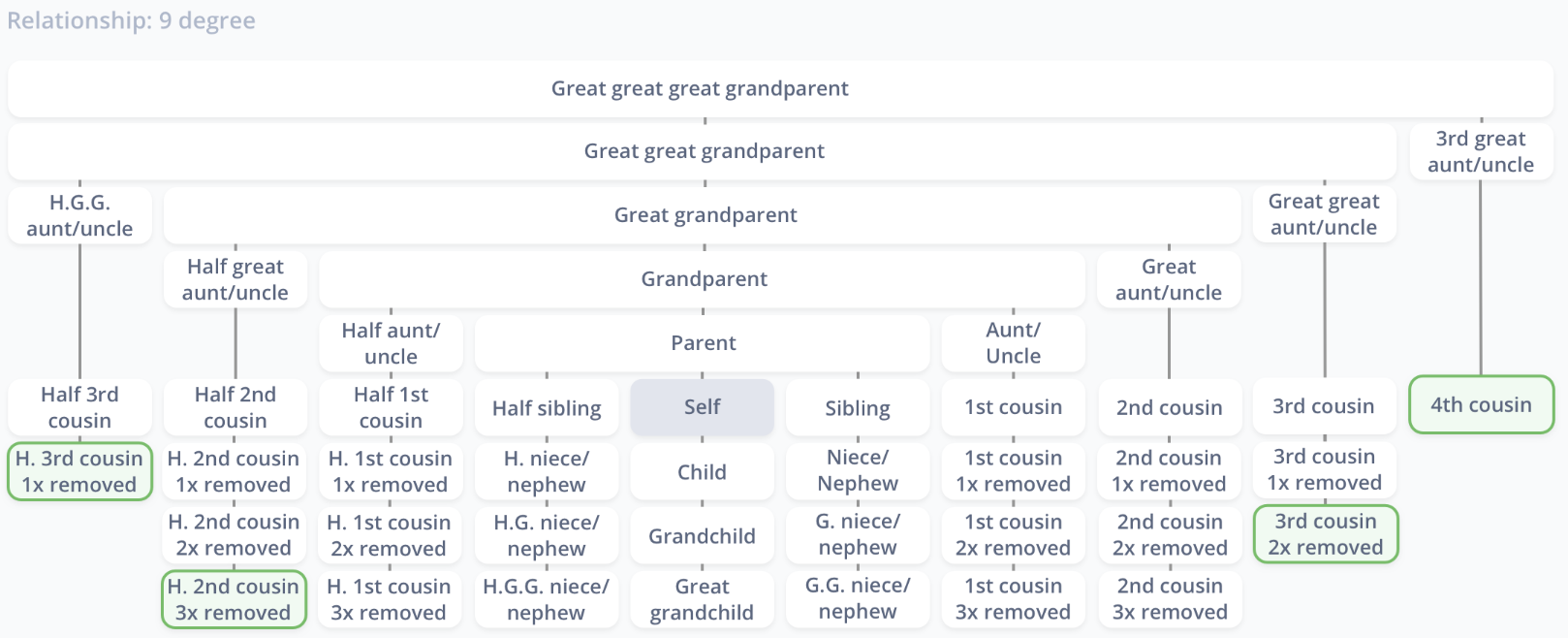 The Family Matching tool helps you to discover genetic relatives in our system. Your genetic relatives are determined by comparing your DNA against potential matches. The amount of DNA you share is used, along with the length of those matching DNA segments, to determine your predicted relationship to each person.
Top tip - you must be opted into Family Matching. If you are not opted into matching click HERE for a guide. It can take up to 2 weeks for matches to appear once you have opted in.
What range of relationships do we find?
We can use your DNA to find 1st-degree relatives (such as parents, children, and siblings) up to 9th-degree relatives (4th cousin and greater). A 9th-degree relative might indicate a common ancestor from 5 generations ago or more (which, depending on your tree, is approximately 120 years). If you would like more information on relationship predictions and what they mean, please click HERE
How accurate are my matches?
That's a more complicated question than you might think!
In terms of degree classification, the accuracy of each match diminishes as the number of generations to the common ancestor (or the distance across a family tree) increases. This means that a 6th-degree match in your relatives list could in fact represent anything from a 5th- to a 7th-degree relative, while a 9th-degree match in your list could actually represent a 7th- to a 12th-degree relative.
This ambiguity is because of the way your DNA is inherited. A process called recombination makes it harder to be accurate over a longer genetic distance.
This is where work on your paper trail is important. Your family tree research can support your match list and give you a truly detailed picture into your past.
I still don't have any matches, why is this?
If you don't have any matches it could be due to two reasons.
Firstly, to receive matches you need to opt into Family Matching. This is quick and easy, to do this follow this guide.
If you have opted in and you still don't have any matches, don't worry... our database is growing all the time with thousands of people opting in all the time. Encourage friends and family to upload their data to Living DNA and opt in to Family Matching.